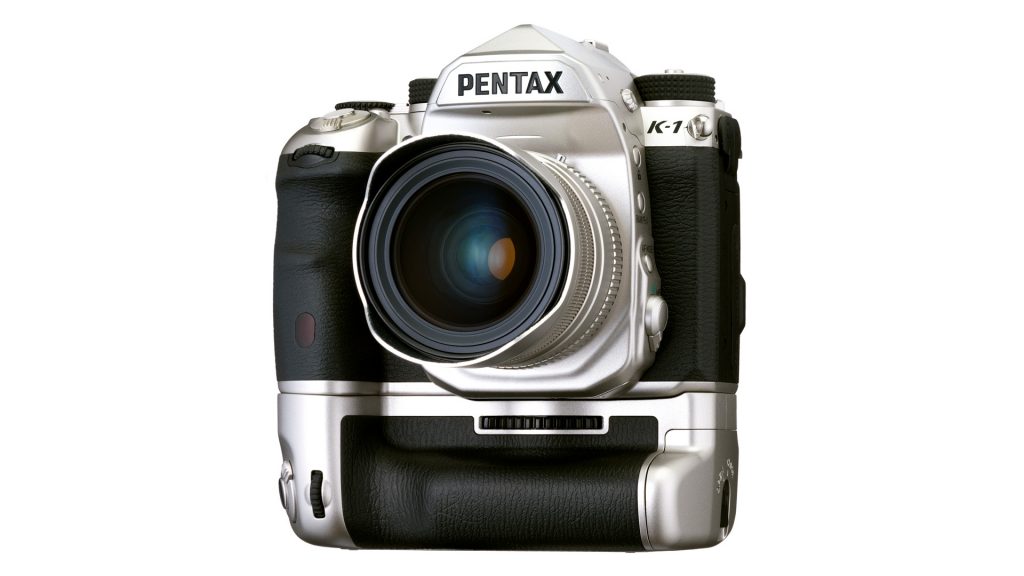 Pentax has announced a limited run of Silver edition K-1 DSLRs.The new camera also includes the latest Pentax K-1 firmware, version 1.4.1. Apart from that, the new model is technically identical to the regular Pentax K-1, the company's full-frame DSLR.
Highlights include a 36.4-megapixel sensor, an unusual scissor-action tilting rear screen and an in-body anti-shake system that works with any lens. The sensor shift mechanism is used to provide other innovative features, including an anti-aliasing simulation mode to avoid moiré with subjects containing fine patterns, and a Pixel Shift Resolution mode for increased colour resolution with tripod-mounted shots of static subjects. The mechanism also allows an automatic levelling mode and an AstroTracer mode which can keep star fields stationary in the sky during long exposures. The K-1 also has GPS built in, and is compatible with APS-C format Pentax K-mount lenses in 'crop' mode.
The K-1 sells for slightly less than the popular Nikon D810 and has more features, but the Nikon's system support and lens line-up is more extensive and the D810 has a better autofocus system. The K-1's resolution is now slightly upstaged, too, by the Canon EOS 5DS, Sony A7R II, Sony A99 II and the brand new Nikon D850.
The Silver edition's finish perfectly matches Pentax's silver FA Limited Lens Series and you also get a limited edition metal hotshoe cover with logo. There's a matching silver finish battery grip with two batteries,too, so the slightly higher price of £2,149.99 (UK) compared to the standard model makes it look good value.
Pentax K-1 Digital Full Frame SLR Camera Body – Black